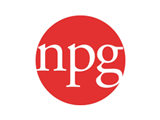 A new version of the NatureJournals app goes live today, giving readers access to 34 Nature-branded research and review journals, and Scientific Reports, on the go. The app now works on iPad, iPhone and iPod touch.
Full access is available through an existing personal or mobile subscription. All app users have free access to Nature news and all open access content in Nature Communications and Scientific Reports.
New features include a brand-new navigation and interface design, for a more responsive and simplified experience. Key functions include bookmarking, figure viewers and interactive functions, such as slideshows and videos.
The iPad version also has a slick new cover animation when opening journal issues, article level metrics provided by Altmetric, and simplified saved searches.
The new NatureJournals app replaces the Nature.com Reader app, which is no longer available in the App Store. Existing subscriptions purchased via Nature.com Reader will be honoured in theNatureJournals app.
To view more, watch the new video on YouTube.