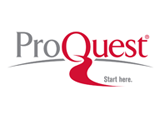 A new collaboration between OCLC and ProQuest automates the process to keep e-book holdings from ebrary and EBL – Ebook Library up to date in WorldCat and library catalogs and offers current links to library users for easy access to those titles. The initiative builds on OCLC's work with ProQuest's e-book businesses to support Demand-driven Acquisition (DDA) workflow and e-book access.
Libraries can now request that ebrary and EBL provide OCLC with holdings data for purchased collections and DDA repositories. The data will be loaded into the WorldCat knowledge base, which combines information about a library's electronic resources with linking features that enable access to the content. E-book holdings and access will be automatically kept up to date for OCLC cataloging libraries, without the need for library staff to manually intervene.
"OCLC is working with partners like ProQuest to automate as many steps as possible in the supply chain to help reduce the burden on librarians to keep e-resource information current," said Chip Nilges, OCLC Vice President, Business Development. "This automated process is designed to remove the difficult and time-consuming task of cataloging and maintaining holdings information to keep records of e-book collections and links up to date. This work at the supply chain level will result in fast, easy and reliable access to these e-collections for library users."
"This relationship with OCLC hits the high points of ProQuest's goals for our combined e-book business: seamless access and supported workflow," said Kathy Masnik, ProQuest Vice President of Product Management, Ebooks. Masnik is leading ProQuest's integration of ebrary and EBL, which will build a joint e-book platform, streamlining libraries' current systems and processes for added value. "We're delighted to partner in the debut of an important step forward in streamlining the work surrounding e-books."
Libraries interested in implementing this new program should contact ebrary and EBL customer support with their OCLC symbol at support@ebrary.com and support@eblib.com.