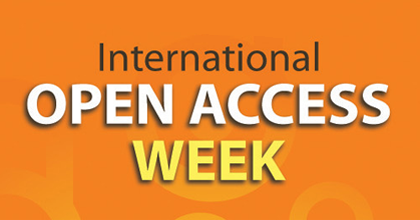 Open Access Week, the annual event celebrating the global movement towards Open Access (OA) to research and scholarship, kicks off for the fifth time on Monday, October 24.  Coordinated by SPARC and organized by more than 2,000 advocates in countries around the world, the event provides an opportunity to learn about the benefits of Open Access, share new ideas and strategies, and inspire wider participation in establishing Open Access as the norm in scholarly communication.
Every year, research funders, academic institutions, libraries research organizations, non-profits, businesses, and others use Open Access Week as a valuable platform to convene community events as well as to announce significant action on Open Access.  The Week has served as a launching pad for new open-access publication funds, open-access policies, and papers reporting on the societal and economic benefits of OA.
This year, programs highlighting publishing and rights management choices for faculty authors, use of new media, and opportunities created by re-mixing and re-using scholarly materials are on tap. Open Educational Resources are another key topic, as is open-source technology. Campuses will be presenting a sweeping range of events, from the Harvard University-sponsored "Yana," an open-source template for scholarly journals to develop mobile applications to the University of Utah event diving into new media, fair use, and pop culture.
Students will once again play a major role, hosting panel discussions, workshops, poster campaigns, Web casts and movie screenings to understand Open Access and its relevance to the everyday student. Event's such as "SHOW (Share/OpenAccess/Worldwide)," at the university campus in Rijeka, Croatia, will introduce students to Creative Commons licensing, Open Projects, the Open Content movement, the Open Access movement, and the Right to Research Coalition.
Participation in this highly successful event continues to grow. This year, there are over 2,000 individuals in more than 110 countries registered in the Open Access Week social network at openaccessweek.org. Participation remains strong throughout Europe and North America and will be complemented by new activities in regions as diverse as Algeria, Gambia, Iceland, Iraq, and Sudan. The global nature of this event is captured nicely by the interactive Open Access Week member map, available on the Web site.
To help support local programming, SPARC provides a suite of resources, including a video series featuring leading voices in research and digital technology. This year's feature is Brewster Kahle, founder and Chairman of the Internet Archive. Kahle suggests the time is ripe for Open Access; now that the "plumbing" of the Internet is in place, "We have to move beyond the mainframe model and the subscription or the license model," he says. "It has to be so that things are… shared widely." The video may be viewed and downloaded at http://blip.tv/sparc-north-america/sparc-2011-oaweek-guest-brewster-kahle-founder-of-the-internet-archive-5660098.
The full collection of SPARC videos for Open Access Week, including Dr. Harold Varmus, Director of the U.S. National Cancer Institute, Dr. Cameron Neylon, a biophysicist and open research advocate; Dr. Mona Nemer, professor and vice-president for research at the University of Ottawa; students, librarians, teachers, research funders, and others are available on the openaccessweek.org Web site.
Open Access Week is organized by SPARC (the Scholarly Publishing and Academic Resources Coalition), with the generous support of our 2011 sponsors: the Public Library of Science, @mire, and Springer Open. Find activities on your campus, at your institution, or in your region – or join to participate – through the Web site at www.openaccessweek.org.