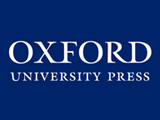 Oxford University Press (OUP) is delighted to announce the launch of a new medical journal, Oxford Medical Case Reports (OMCR).
OMCR is an open access, peer-reviewed online journal publishing original and educationally valuable case reports that expand the field of medicine. The journal covers all medical specialties including cardiology, rheumatology, nephrology, oncology, neurology, and reproduction, comprising a comprehensive resource for physicians in all fields and at all stages of training.
OMCR's Editor-in-Chief, Dr Richard Watts, says:  "Medical case reports are a very valuable educational tool for both trainees and established consultants. Oxford Medical Case Reports provides the ideal forum for publishing case reports combining speed of publication decision making with rapid on line publication. OMCR looks greatly forward to working with Oxford University Press to develop a case report journal which will complement their existing stable of top class medical journals."
Anna Whiting, Publisher for medical journals at OUP, says: "We're tremendously excited to announce the launch of Oxford Medical Case Reports. Case reports are becoming ever more scarce in medical publishing, however they remain a vital part of medical education, allowing for the discovery of new diseases, unexpected effects, and novelties which can further new ideas and medical progress. With Richard Watts, an esteemed rheumatologist and expert Editor, at the helm, we look forward to OMCR becoming an essential hub of information for medics at all stages of their careers."
OMCR will provide a fast first decision for authors submitting work, within 28 days of submission, and there will be no open access fees for the launch period. Published papers will be compliant with the requirements of funding agencies such as the Wellcome Trust, the Howard Hughes Medical Institute (HHMI), and the RCUK. All published papers will be automatically deposited in the Open Access repository PubMedCentral.
OMCR is edited by Dr Richard Watts with associate editors Dr Aloysious Aravinthan, Dr Eleane Ntatsaki, Dr Vassilis Vassiliou, and Dr Vivan Yiu. The first OMCR content will be published in April 2014. For more information about the journal, including article submission guidelines, and how to register for free content-alerting services, please visit the journal's homepage: http://www.oxfordjournals.org/our_journals/omcr/editorial_board.html.