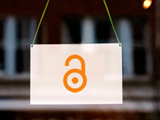 A survey of 22,000 academic researchers by Nature Publishing Group (NPG) and Palgrave Macmillan has found that a decreasing number of authors are concerned about perceptions of the quality of open access publications.
In 2014, 40% of scientists who had not published open access in the last three years said "I am concerned about perceptions of the quality of OA publications." But this year, only 27% said they were concerned. In the humanities, business and social sciences (HSS), the drop was more marked; from 54% in 2014 to 41% in 2015. Nonetheless, a concern about perceptions of the quality of OA publications is still the leading factor in authors choosing not to publish OA.
NPG and Palgrave Macmillan are making the anonymised data from their annual survey available for the second year running under a CC BY license, in order to achieve greater understanding between authors, funders and publishers.
The survey reveals authors' views on a diverse range of topics, including open access, how they determine the reputation of a journal, the value they place on publisher activities and services, and funder mandates. A summary of views from authors based at Chinese institutions is also available, which provides some interesting comparisons between China and the rest of the world. All data is available to view and download on figshare, along with summaries pulling out the highlights.
Dan Penny, Head of Insights at Nature Publishing Group and Palgrave Macmillan said: "Perceptions are likely to change over time as more open access publications establish strong reputations, funders mandate open access, and authors publish their best research in OA journals. Last year in particular saw a significant improvement in attitudes."
Penny adds: "For our part, last year Nature Publishing Group switched Nature Communications to become our flagship open access journal, and it is now the world's leading multi-disciplinary Open Access journal. Effective 2015, 56% of the research NPG publishes is open access at the point of publication, and we have moved to CC BY as default. We have also set up an open access funding support service, which matches authors with funds to enable open access publishing. However, there is still more education needed, especially on the subject of available funding and open access mandates."
Key findings from the survey include:
The four most important factors for author when choosing where to publish were:

Reputation of the journal
Relevance of journal content
Quality of peer review
The journal's Impact Factor (although authors in the HSS disciplines placed more importance on journal readership than Impact Factor.)

Factors that contributed most to a journal's reputation were:

The journal's Impact Factor
Seen as the place to publish the best research
The consistency of quality
Quality of peer review

When asked about their understanding of their main funders' open access policy,

30.7%

of authors accurately matched the policy.
Another 30% partially matched their funders' policy, and 40% did not match their funders' policy.
Of those who did not match their funders' policy, 41% thought their funder had no open access requirement when it did, while another 41% thought their funder had an open access requirement but it did not.
Chinese authors are much more likely to receive support to publish their research via open access (OA) than their global colleagues and an increasing proportion are choosing to do so exclusively.
92% of Chinese researchers who took part had sufficient funds to publish their research in OA journals, substantially higher than the global average 68% of researchers from the rest of the world.
20% of Chinese authors report having published exclusively in OA journals in the last 3 years.
The Author Insights Survey 2015 was originally carried out for internal research purposes in April 2015 among academics who have written papers for NPG and Palgrave Macmillan, as well as other publishers.