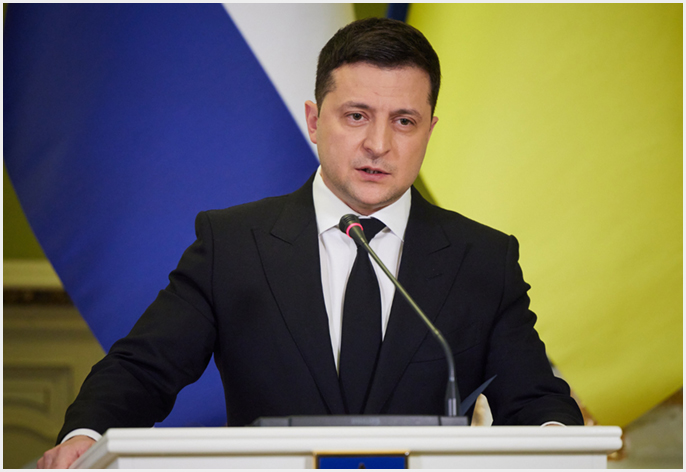 At the joint invitation of Frankfurter Buchmesse and the Federation of European Publishers, the President of Ukraine, Volodymyr Zelenskyy will address the book sector on Thursday 20 October at 12.30 p.m. CET via videolink. His speech will be followed by a speech by European Commissioner for culture Mariya Gabriel. The event is open to the public and will take place in Room Harmonie at the Congress Centre. Please register via: info@fep-fee.eu
It goes without saying that all participants in the Fair are convinced that books are key to a better world. Today and tomorrow, all book professionals in Ukraine must be in a capacity to resume their activities and to promote their culture, among their citizens and to the world. For Ukrainian literature to be visible at the Frankfurt Book Fair with a large stand (Hall 4.1 B114) and many publishers present, is also an act of resistance against attempts to annihilate Ukrainian culture. It is the duty of the book world to support our Ukrainian colleagues' efforts to preserve and promote their books. European publishers and publishers from all over the world have already shown support, but more needs to be done, including with support from governments. 
The European Commissioner for culture been actively involved in developing assistance to Ukraine since the first days of the war, through networking and special calls for support. After visiting the fair, she will speak to delegates about specific developments at European level affecting the world of books.
Peter Kraus vom Cleff, President of the Federation of European Publishers and Managing Director of the German Publishers and Booksellers Association, said "Ever since the start of the invasion, FEP together with Börsenverein des Deutschen Buchhandels, have reached out to our Ukrainian counterparts and offered support. What Ukraine is doing now, is standing up for our rights and our values. The whole book community must continue its engagement so that publishing in Ukraine can remain vibrant. I thank President Zelenskyy for having chosen Frankfurt for his intervention and invite all colleagues to join us to listen to him and the Commissioner for Culture".
Juergen Boos, President and CEO of Frankfurter Buchmesse, said "The Frankfurt Book Fair has maintained close relations with publishers, authors and industry-related institutions in Ukraine for many years and has carried out numerous trade fair participations, publishers' training courses and specialist programmes in recent years. This year, it is very important to us to enable and support the networking of Ukrainian colleagues with their partners worldwide, and to let many Ukrainian intellectuals, publishers, authors and cultural workers have their say at the Frankfurt Book Fair to report on the current situation. We want to create publicity and raise awareness of what is at stake."