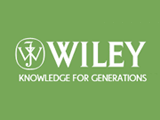 John Wiley & Sons, Inc., today announced that the inaugural Journal of Polymer Science Innovation Award will be issued today to Professor Christopher Bielawski at the Fall American Chemical Society (ACS) meeting in Philadelphia, PA.
"We are delighted to announce this award, which recognizes the advances made by a young scientist whose research has made an outstanding contribution in advancing our understanding of polymer science," said Vicki Cleave, Editor-in-Chief of the Journal of Polymer Science Part B: Polymer Physics. "We are also delighted to be able to contribute to the programming for the PMSE division at the Fall ACS meeting, as the symposium will be the ideal setting to celebrate the kind of innovation we want to highlight with this award."
Many nominations for exceptional researchers were received, and Professor Christopher Bielawski of the University of Texas at Austin is the recipient of this inaugural award which recognizes both his achievement and innovation in work carried out by a researcher under the age of 40.
Professor Bielawski's work has opened up several new research areas in the field of polymer science. His nominator, Jeffrey Moore of the University of Illinois, says, "Professor Bielawski's creativity and productivity place him among the very best faculty in the nation. He is a pioneer and leader in the field with a proven track record of solving long-standing challenges while opening new opportunities."
As part of the award, the Polymer Materials Science and Engineering (PMSE) division of the ACS hosts a half-day symposium organized and chaired by the journal's editors to celebrate the award winner during their programming at the Fall ACS meeting.
The symposium will showcase not only Professor Bielawski's work, but also the most exciting speakers associated with his research from across the breadth of polymer science.