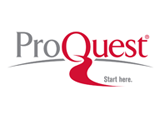 ProQuest is streamlining research by enabling ebrary® and ProQuest® content to be discovered within a single search experience. Now, researchers can surface e-books side-by-side with relevant reports, videos, journal and newspaper articles and more in one step. The advance in searching comes via linking technology that enables users to navigate seamlessly from search results to the platform that best supports the content they want to explore.

"Our research shows that e-books are important to both scholars and students, but there has been some frustration in trying to find them," said Kurt Sanford, ProQuest CEO. "We're addressing that barrier in a way that respects the nuances of different formats. E-book content is supported by the ebrary platform, which includes tools designed specifically for e-books and traditional scholarly content is supported by its own set of tools."
ProQuest launched a beta of the linking technology in 2011, making ebrary's flagship subscription database, Academic Complete™, discoverable alongside ProQuest Research Library, ProQuest Central and ProQuest 5000. Now, all ebrary e-books are discoverable on the ProQuest platform and cross-searchable with any ProQuest database. Users connect to full-text of any of the sources through the search results screen. In the case of e-book content, they move directly to relevant passages within the books via ebrary's relevancy ranking by document and chapter.
Interoperability between the platforms is automatic for libraries that have ProQuest and ebrary content through any acquisition model.
"Format is increasingly irrelevant to research and search technologies need to reflect that," said Mr. Sanford. "Flexible and interoperable models are essential for libraries to manage change in a dynamic environment."
E-book discovery is being propelled by a variety of initiatives at ProQuest. In 2012, the company completed full-text indexing of ebrary's vast collections of titles within the Summon® discovery service, enabling users to find relevant e-books as part of a broad search of their library.
Click here to learn more.