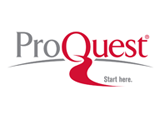 In partnership with American University of Sharjah (AUS), ProQuest is holding the Middle East Academic Libraries Symposium.  Over the next two days they will be bringing together senior leaders from the academic library market with key representatives from leading Middle East Universities to discuss knowledge and information strategies and resources for academics and also their institutions.
Speakers from around the world will discuss a variety of key topics linked to emerging research trends and library management. Opening the conference will be Robin Bew, Managing Director of the Economist Intelligence Unit.  Bew will discuss with delegates what role education and research plays in the economic development process within these countries and what opportunities the knowledge and digital economy provides.
Michael Gersch, Senior Vice President, Global Sales, Marketing and Customer Experience at ProQuest said that "As a proud partner to academic libraries across the Middle East, ProQuest is delighted to be co-hosting with the American University of Sharjah the 'Middle East Academic Libraries Symposium'.  This event has been created to bring together key inspirational speakers from across the globe to discuss with delegates from the Middle East trends and topics which will lead to the exploration of options to assist in building robust strategies for their institutions".
Acting Chancellor of AUS, Dr. Thomas Hochstettler said on holding the symposium, "It gives us great pleasure to co-host the Middle East Academic Libraries Symposium. As an institution of higher education, research is at the top of our list of priorities. We are very proud that our state-of-the-art library is among the finest in the region and reflects our commitment to quality research and development."
Other key topics for the event will cover 'Issues and Challenges Surrounding Library Management' delivered by John McDonald from Claremont University Consortia and Jane Burke from ProQuest, 'ebook strategy for building collections and framework models' by Lorraine Estelle, JISC and Kari Paulson, ProQuest and finally 'Digital Collection Management and Digital Preservation' by Jeff Garrett, Northwestern University and Stephen Brooks from ProQuest.
Delegates are attending the symposium from across the Middle East including Egypt, Lebanon, Saudi Arabia, Jordan, Qatar, Algeria and Kuwait with numerous attendees also from within the United Arab Emirates.