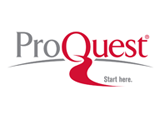 ProQuest® has appointed Michael Hirsch, Vice President, Product Management for its Serials Solutions® business located in Seattle, WA. In this high-impact role, Hirsch will drive product development and go-to-market strategies for Serials Solutions products, including the Summon®discovery service, the portfolio of library management products and services, and Intota®, a new SaaS library services platform.
The Serials Solutions product management team, under Hirsch's leadership, will develop products, implement enhancements to current products and create synergy with other ProQuest technology solutions and content services; all with a primary goal of exceeding customer needs and expectations.
"Michael brings to ProQuest an impressive record of successfully developing products that respond to customer requirements, creating a strategy for growth and inspiring cross-functional teams," said Matthew Brine, general manager, Serials Solutions. "With his collaborative management style and leveraging the expertise in his team, he will lead the development of new approaches to creating more value for our customers and amplifying the voice of our customer."
Hirsch has decades of experience in product management, as well as a broad background in technology, creating a solid foundation for strategic planning and execution, product lifecycle management and market analysis. Most recently Hirsch was director of product management for the handsets and tablets business of T-Mobile, where he led multi-disciplinary teams, launched numerous wireless devices, established and grew T-Mobile's tablet business. Hirsch held multiple progressive management positions at Sony Corporation and Universal Electronics, until his role as director of product management at Qualcomm from 2007-2011.
Hirsch earned his MBA with honors from the University of California Los Angeles (UCLA), and holds Master and Bachelor of Science degrees in Mechanical Engineering from UCLA.