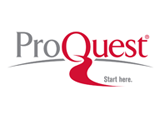 ProQuest is helping universities build robust institutional repositories (IRs) by sharing digital copies of their graduate works which have been converted from paper or microfilm and archived in the ProQuest Dissertations and Thesis database (PQDT). The move enables universities to build their own searchable, historical archives even if their IR programs are new.

"Our goal is to expand the reach and impact of graduate works as a driver of innovative research," said Austin McLean, ProQuest director of dissertations publishing. "By teaming with our university partners, we can maximize the profile of dissertations and theses as an integral part of the scholarly communications landscape."
The new program deepens ProQuest's policy of sharing digital copies of dissertations with universities as they are submitted when authors allow broad dissemination. Any university that has participated in ProQuest's Digital Archiving and Access Program (DAAP) is eligible to receive copies of their converted dissertations for loading into their IRs. Some nominal charges may apply. Additionally, the university must comply with any limits that the author has placed on posting and dissemination.
ProQuest has been showcasing innovative graduate works through multiple new programs. In 2007, it launched PQDT Open, an online repository of Open Access graduate works. This expanded service provides authors with the widest possible distribution of the official published version of their dissertation or thesis. ProQuest's traditional publishing service is also included with rigorous quality assurance, assignment of an ISBN and permanent storage in the company's microfilm and digital vaults. Breadth of dissemination is determined by dissertation authors within the context of institutional policies and ProQuest strictly adheres to author dissemination choices.
ProQuest Dissertations & Theses is the world's largest commercially available repository of graduate works. Chosen by the United States Library of Congress as the official archive of American dissertations, ProQuest Dissertations & Theses, whose precursor was begun in 1939, now encompasses more than one quarter of a billion pages, creating a unique, continually growing trove of emerging research and landmark works. Researchers rely onProQuest Dissertations & Theses as both a source of enlightening information and as a pivotal component in making their own scholarly production available to the world's intellectual communities. The archive is managed at ProQuest by a team of scholars and technologists, who combine their talents to make the archive accessible, reliable and supported by continually advancing technology.