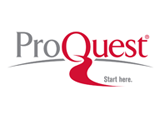 Information industry leaders ProQuest and Ex Libris® Group are pleased to announce that over 200 of ProQuest's most widely used databases have been indexed in the Ex Libris Primo Central Index of scholarly electronic resources, making the content easily discoverable via the Ex Libris Primo discovery service.
Among the important ProQuest databases that are now available via Primo are ProQuest Central; ProQuest Dissertations & Theses Global; ABI/INFORM®; Black Studies Center; various historical digital collections, including Early English Books Online (EEBO); Periodicals Archive Online; Periodicals Index Online (PIO); and approximately 50 abstracting and indexing (A&I) databases, which join the growing list of subject indexes in Primo Central. In the coming months, ProQuest Congressional and other databases will also be accessible via Primo. ProQuest content is used in more than 26,000 institutions in over 150 countries around the world.
The collaboration between ProQuest and Ex Libris began earlier in 2014 with an agreement to index ProQuest full-text and A&I databases in Primo Central. These two leaders in the information and discovery markets also began exploring methods of integrating the ProQuest Summon® discovery service more tightly with the Ex Libris Alma library management solution and Ex Libris Aleph® and Voyager® integrated library systems.
Jack Ammerman, assistant university librarian at Boston University Libraries—one of a select group of institutions that were granted prerelease access to the ProQuest databases—observed: "We are delighted that the ProQuest databases have become an integral part of the Libraries' discovery service. Now our users are readily able to discover and access full-text content from familiar ProQuest databases. These databases greatly enhance the value of Boston University Libraries Search for our faculty and students. We are confident that the use of these licensed resources will increase."
Knut Anton Bøckman of the Royal Library of Denmark noted: "Having ProQuest resources searchable along with the other sources in Primo Central significantly extends the usability of the one-stop search solution for students. This expansion of Primo Central is an important step for libraries that want to design the discovery options for resources that they subscribe to, the better to fulfill the diversity of user needs."
"ProQuest and Ex Libris are acting on a shared vision to support seamless research for our mutual customers and their users," said Allan Lu, ProQuest vice-president, Research Tools, Services and Platforms. "This is a great first step in an extensive collaboration that promises to make the key services of each of the companies work better together, improving the user experience and supporting customer choice."
"We are thrilled with the results of the cooperation between the two companies," remarked Shlomi Kringel, vice president of discovery and delivery solutions at Ex Libris. "The close collaboration provides the scholarly community with clear benefits and streamlines the discovery and delivery processes for millions of students and researchers at thousands of Primo institutions worldwide."