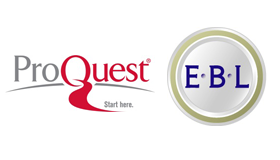 ProQuest, an information company central to global research, has completed its acquisition of Ebook Library (EBL), significantly expanding its e-book delivery and aggregation capabilities with libraries worldwide. The acquisition supports ProQuest's overall goal of enhancing the research experience through seamless discovery of content across multiple formats, including books, journals, dissertations, newspapers, and video.
Kari Paulson, President of EBL, and EBL's current staff have joined ProQuest with Ms. Paulson in the role of Vice President and General Manager of the combined ebrary and EBL e-book business unit. She will lead the planning efforts to combine the strongest features of ebrary and EBL into one optimized e-book platform that has the most flexible selection of business models, the most comprehensive range of content, and the most effective tools available to support both researchers and librarians. The company will be actively soliciting customer feedback throughout the integration in order to provide libraries with an even better e-book solution.
ProQuest does not anticipate disruption for EBL or ebrary customers over the estimated 18 month integration timeframe. Customers and partners should continue to work with their current EBL and/or ProQuest representatives.
To learn more visit ProQuest at www.proquest.com.