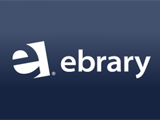 ProQuest continues to innovate the use of ebooks in research, launching a beta version of its new ebook reader, developed with extensive user input and debuting on the ebrary® platform. The ebrary Reader delivers a modern experience, with a simple interface, intuitive navigation and user-centered design. The Reader represents the best-in-class user experience being developed for the integrated platform that will unite ProQuest's businesses ebrary and Ebook Library – EBL.
"Our mission is to create the industry's most progressive ebook platform by working in partnership with our customers and the researchers they serve," said Kari Paulson, vice-president and general manager, ProQuest Ebooks. "The Reader is a significant step toward achieving this mission. It's an elegant solution that reflects the intense user collaboration that drove its development. We're encouraged by the very positive feedback we're receiving from our beta customers."
The new ebrary Reader is designed to meet the continually evolving expectations of researchers. Extensive user testing with library patrons, particularly university students in the midst of research projects, steered its development. Copying, printing, downloading and searching within books is streamlined and intuitive navigation gets users to popular features faster. Improved text and page quality boost readability, while new viewing options (including vertical scrolling) give users more control of their reading experience. Further accessibility features for those who are blind or visually impaired will be rolled out later in 2014.  The ebrary Reader was designed from the ground up to work seamlessly across the devices most used by researchers, with a new emphasis on tablets — increasingly popular in libraries.
Response from beta users such as the renowned library at Gettysburg College is enthusiastic. "When we heard that the new Reader would significantly enhance user functionality and navigation and facilitate researcher needs, we were eager to participate in the beta program and experience the improvements for ourselves," said Acquisitions Librarian Jeremy Garskof. "We are very impressed with the Reader's user-centered design and intuitive features. We greatly appreciate the opportunity to collaborate with the ProQuest team to provide real-time feedback during development with the goal of further improving the usability of the new Reader. The beta program and the solicitation of feedback from real patrons demonstrates ProQuest's strong commitment to developing meaningful partnerships with the library community with an emphasis on the user experience."
ProQuest expects to conclude beta and go live with the new Reader in August. Learn more atwww.proquest.com/libraries/academic/ebooks.