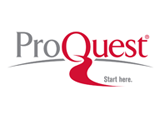 Continuing its mission of making hard-to-find journals accessible to the world's researchers, ProQuest has released the 10th collection in its widely-used Periodicals Archive Online. A landmark electronic trove of more than 700 digitized, fully searchable journal archives, Periodicals Archive Online accelerates the productivity of researchers with powerful and easy searching of two centuries' worth of international scholarly literature in the humanities and social sciences.

"Periodicals Archive Online is the kind of resource that allows researchers to work strategically," said Mary Sauer-Games, ProQuest Vice-President, Publishing. "It gathers the resources that have been typically hard to find and access and makes them easy to search in a very targeted way."
With more than 15 million pages and 3 million articles, Periodicals Archive Online is a growing virtual library comprising core academic journals as well as rare specialized titles. Periodicals Archive Online's 10th collection includes international titles such as Queen's Quarlerly, Cahiers d'histoire mondiale, L'Homme et la société and Libri, along with regional works, including Tennessee Historical Quarterly and Kentucky Folklore Record. Journals are digitized cover to cover, from volume 1, issue 1 and some 20 percent are in non-English languages, providing the broad international coverage that researchers require to publish on the global stage. Its fast search engine enables powerful and intuitive searching across this vast body of content.
To learn more, visit www.proquest.com.