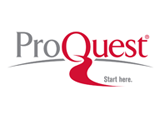 ProQuest has appointed Roger Retke to the newly-created position of Vice President, Strategic Projects. In this role, Mr. Retke will lead the overall strategy and operational implementation of ProQuest discovery and library management technology solutions. Mr. Retke joins the Workflow Solutions leadership team and brings a track record of success in strategic management and execution that will be applied to planning, development, and execution of the ProQuest enterprise strategy.
"We look forward to utilizing Roger's talents and expertise, strengthening our abilities and becoming more effective leaders to provide best-in-class solutions for our customers' workflow challenges," said Kevin Sayar, senior vice President of workflow solutions and ebooks, ProQuest. "He's a great addition to our leadership team."
Mr. Retke is known for his innovation in senior roles that span more than 20 years in product development, organizational design, program management, and operational execution. Most recently, Mr. Retke was Vice President, Software Engineering and Quality at Systech International, a leader in pharmaceutical packaging and serialization automation. He also held a previous key leadership role at ProQuest, managing product development teams and UI design resources, receiving recognition for exceptional performance and the successful delivery of complex projects. Earlier in his career Mr. Retke served as the head of School Library Services of the National Library of New Zealand. During his tenure with the NLNZ, Mr. Retke introduced technology innovations that improved efficiency and supported more equitable utilization of the library's resources by schools across New Zealand.
"I am happy to rejoin ProQuest and assist the team in increasing usage of information collections by providing practical and integrated solutions for acquisition, assessment, and management," said Mr. Retke. "I'm dedicated to building a cohesive strategy to deliver a universal user experience for our customers".
Roger attended the MBA program at the University of Melbourne, and holds a BA from the University of California – Berkeley, CA. He will be based in ProQuest's Seattle office.