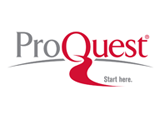 ProQuest today announced new functionality for its 360 Link link resolver, improving the research experience by delivering superior full-text access to discovered content in a library's collection. 360 Link now utilizes Index-Enhanced Direct Linking (IEDL) technology in combination with a new Sidebar Helper frame giving libraries the opportunity to further assist patrons at the point of need. Currently in Beta and available at the end of July to all 360 Link customers as part of their subscription, the enhancements were developed in close collaboration with four customers:  Bowling Green State University, Cornell University, Duke University and East Carolina University.
360 Link with IEDL technology and the new Sidebar Helper frame provides the most direct and straightforward access to full-text and responds to more than a decade of unmet user expectations with traditional link resolvers. Whether searching in a discovery service, Google Scholar, A&I database or any other popular platform, researchers will experience more reliable and direct access to full-text compared to OpenURL link resolvers.
The new sidebar element allows libraries to maintain a presence in the researcher's workflow with opportunities to promote additional resources and provide easy access to library services, including interlibrary loan, reference chat and citation management tools like ProQuest Flow. Another feature of the side bar is Author Resolver, which aids in research precision, as well as expands research pathways by linking users from author names found in citations to more than 3 million scholar profiles from ProQuest Scholar Universe.
"With the proliferation of discovery services and continued growth of electronic resources, the need to reliably link users to content they've discovered is now greater than ever," said Eddie Neuwirth, Senior Product Manager, Discovery Services, ProQuest. "Our modern approach and proprietary technology uniquely moves 360 Link beyond traditional link resolvers in terms of user experience and expectations, and ensures libraries get credit for providing access to content while maximizing usage of their collections."
"The enhancements ProQuest is making to their link resolver product are very much appreciated. We hope their work will stimulate a new phase of innovation in OpenURL-based library services," said Adam Chandler, Technical Services Automation and User Experience Strategist, Cornell University Library.
"Working with ProQuest on 360 Link has proved to be a fruitful endeavor that's resulted in an enhanced product that speaks to the needs of our library users. Their iterative development process and incorporation of client feedback has resulted in an improved link resolver," said Ginny Boyer, Head of Application and Discovery Services, East Carolina University Libraries.
Originally developed for the Summon discovery service, IEDL technology improves link reliability by eliminating common metadata mismatches between referring sources and target platforms that often cause problems for traditional OpenURL link resolvers. Using provider specific data elements curated from the vast Summon unified index, IEDL provides verified and unmediated, one-click access to full-text content from more than 370 providers representing greater than 4,000 databases, covering more than half a billion journal articles and other content types.
Whether a library subscribes to Summon or not, all 360 Link subscribers will benefit from this technology integration which improves linking to full-text and extended resources regardless of the user's starting point.
http://www.proquest.com/documents/ProQuest-Improves-Access-to-Full-text-with-New-360-Link-Technology.html