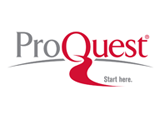 ProQuest is seeking applicants for its 2014 Roger K. Summit Scholarship.  Open to applicants from around the world, the US$5,000 award has been given annually for more than twenty years, supporting promising graduate students in library and information sciences. The winner will be announced at the Special Libraries Association's 2014 Annual Conference to be held June 8 – 10 in Vancouver, British Columbia.
"When this scholarship started there were very few students studying electronic information services, and now we would be hard pressed to find any LIS students whose interests don't include electronic information services," said Maria Ziemer, Manager of ProQuest's Graduate Education Program.  "It's a testament to Roger Summit's ability to envision the future and also to how far our profession has come.
An important element in ProQuest's extensive Graduate Education Program, the Summit Scholarship is named for Dialog's founder Roger K. Summit, a pioneer in developing the technology behind online information retrieval. The scholarship was established in 1993 and continues as part of ProQuest's commitment to support graduate education and engage the next generation of information professionals.
The deadline to apply for the scholarship is April 30, 2014. To qualify, candidates must be enrolled in an accredited library or information sciences program. A panel of ProQuest information professionals will select the winner after reviewing academic achievement, interest in digital services and faculty recommendations.
Information and applications are available here.