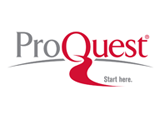 ProQuest has joined the Open Access Scholarly Publishers Association (OASPA), which represents the interests of Open Access (OA) journal publishers globally in all scientific, technical, and scholarly disciplines. ProQuest is renowned for innovative content and technology solutions that increase the productivity of students, scholars, researchers, professionals and the libraries that serve them. In addition to integrating and aggregating open access content in many of its information solutions, ProQuest publishes Sustainability: Science, Practice, & Policy, an open access journal advancing and supporting environmental research since 2005.

"Open access plays an important role in academic publication and I am delighted that SSPP has received the commendation of OASPA," Maurie Cohen, Director, Program in Science, Technology, & Society, New Jersey Institute of Technology and Editor, Sustainability: Science, Practice, & Policy. "The journal aspires to consistently meet a rigorous standard of quality control while simultaneously bringing to light the pioneering work undertaken by scholars and policy practitioners seeking to address the sustainability challenges of the 21st century."
Through an exchange of information, OASPA promotes OA innovation and education, develops industry standards, and advances sustainable OA publishing models. ProQuest's membership in the group enables the company to contribute to and benefit from its rich exchange of ideas, helping to advance OA content and policies.
Learn more at www.proquest.com, oaspa.org and sspp.proquest.com/.