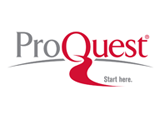 ProQuest® launched its new cloud-based information literacy solution, ProQuest® Research Companion, a one-stop resource that guides high school, community college, and university students through research projects, helping them overcome typical barriers. Easy, intuitive, and informative, ProQuest Research Companion enables students to move through projects such as research papers efficiently, generating better research outcomes and reducing frustration.

"Leveraging several proprietary and highly regarded ProQuest services and technology solutions, Research Companion addresses information literacy challenges unlike any other solution in the market," said Simon Beale, senior vice president and general manager, ProQuest U.S. Government, Public Library and Schools. "Using data and information intelligence from Ulrichs, Bowker's Books in Print, eLibrary, and the Summon discovery service, combined with the expertise of ProQuest editorial staff, we deliver unique features and applications that benefit the student and improve research."
Instructional and reference librarians, media specialists, instructors, and curriculum directors can rely on ProQuest Research Companion as a framework to teach their students important critical thinking skills. For students, automation of the research process enables them to swiftly complete projects and hone their research skills.
ProQuest Research Companion encompasses nine dynamic learning modules that engage students in thinking more critically and creatively about their research. The modules, all of which can be watched or read, guide students through each step of the research process. Clear explanations expressed in a conversational style improve learning outcomes and maximize retention. Research Companion starts with research basics such as finding a topic and looking for information, then goes on to discuss evaluation, citations, revision, and much more. ProQuest Research Companion also helps students find more enjoyment in their research projects. While the learning modules engage them to think creatively about their projects, the quick tools automate the most basic parts of the research process, allowing students to focus on the areas of the project that interest them the most.
ProQuest Research Companion will be demonstrated at the American Association of School Librarians national conference, November 14-17, 2013. The company is also offering complimentary trials with more information available here