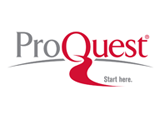 ProQuest® Statistical Abstract of the United States and Queen Victoria's Journals have been selected for Choice Magazine's annual, highly acclaimed Outstanding Academic Titles list. ProQuest's "Stat Ab" has been heralded for rescuing and upgrading an "essential" reference from extinction, while Queen Victoria's Journals was noted for providing "an important primary resource for researching 19th-century British political and social history."

"These outstanding works have been selected for their excellence in scholarship and presentation, the significance of their contribution to the field, and their value as important — often the first — treatment of their subject," said Choice Editor and Publisher Mark Cummings. "Outstanding Academic Titles are truly the 'best of the best.'"
Outstanding Academic Titles are selected by the editorial staff of Choice, a critical reviews resource relied on by academic librarians for collection decisions. Less than three percent of the more than 25,000 titles submitted to Choice for review in 2013 are included on the list. ProQuest's titles are among the 39 electronic works that were selected.
ProQuest Statistical Abstract of the United States 2013 revived America's best-known answer book and guide to statistical sources, continuing the print edition and also revolutionizing it with a convenient electronic work. The online product is updated monthly and new tables are added to the collection each year. The 2014 Edition is now available and ProQuest is following up the success of the Stat Ab with an online global version:ProQuest Statistical Abstracts of the World, covering 39 countries and growing.
Queen Victoria's Journals leverages ProQuest's expertise in the digitization of rare, fragile documents, enabling researchers around the world to search and view crisp page images of 141 personal diaries — more than 43,000 pages — of the longest serving British monarch. Queen Victoria's journals had never before been published in their entirety and were only accessible to scholars by appointment at the Royal Archive. ProQuest continues to provide digital access to rare primary sources. Recently, the company brought onlineTrench Journals and Unit Magazines of the First World War and, as part of its acclaimedEarly European Books program, early printed works from the Bibliothèque nationale de France (BnF) in Paris.
Other ProQuest products that have been named Choice Outstanding Academic Titles in previous years include ebrary's popular ebook solution Academic Complete.