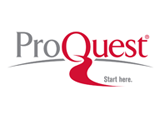 In addition to using scholarly journals for active research projects, business faculty rely on materials that share insights and ideas ahead of publication, according to a new study from ProQuest that explores non-journal resources. Business faculty members are using working papers, printed books, pre-prints, conference proceedings and dissertations to explore specific research topics. When asked about passive forms of research — such as staying up-to-date in the field or identifying ideas for further research — newspapers join books at the top of most-used resources.
"Scholarly journals are an established resource of research, but greater clarity has been needed to understand how other content types are being used in the research process," said Jeff Wilensky, ProQuest Vice President, Product Management. "This study shows us that faculty require a breadth of resources in addition to journals to meet their active research requirements in creating scholarly content."
The study was based on usage statistics in the key scholarly business database ABI/INFORM and a survey of more than one hundred business faculty members and graduate students in the U.S. The survey results found that research for active projects most frequently included exploration of working papers (85%), print books (85%), pre-publication papers (84%) and raw data (83%), followed by conference proceedings (74%), and abstracts (64%), ebooks (56%), and dissertations or theses (55%). Less popular, but still important, were patents, grey literature, SWOT analysis, videos, standards, best practices reports, blogs, and book reviews.
Also surprising was the popularity of print books versus their "e" counterparts. Despite the growth of e-books, print currently has a stronger following with faculty.
"We expect preferences between print and 'e' books to shift quickly over the coming years," said Mr. Wilensky. "We believe these results are reflective of a combination of habit and availability of content in ebook format, rather than a long-term preference for print."
For both print and "e," respondents indicated they will use their own or professional allowance funds to purchase books without checking availability in the library. The convenience of having the item within easy reach is a factor, especially for books that are referred to frequently.
The heavy use of raw data is a growing area of spending and interest among business librarians as they explore how best to meet their researchers' needs through acquisition, management, and curation. A ProQuest study on data use and archiving is underway, with results available later this year.
Exploration of non-journal research sources is an area of ongoing global study by ProQuest. U.S. research results are available as a white paper here. Global trends and regional differences will be published later in 2012.