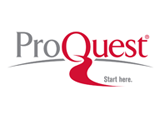 ProQuest has signed an agreement to acquire Coutts Information Services from Ingram Content Group, adding Coutts' renowned expertise in collection development, broad catalog of print and digital titles, and platforms MyiLibrary and OASIS to ProQuest's vast selection of ebooks and innovative technology framework. The move paves the way to combine Coutts' acquisitions strengths with ProQuest's inventive digital tools to deliver a superior end-to-end workflow across print and electronic. Ingram will play a continuing role in print fulfillment in North America, supporting ProQuest with its extensive print inventory, fast on-demand print capabilities and delivery network. The acquisition is expected to close within weeks.
"ProQuest has been innovating ebook workflows and systems by bringing together the best mix of titles, talent and technology," said Kurt Sanford, ProQuest CEO. "With Coutts and MyiLibrary joining ProQuest, we'll accelerate these advancements by creating fully integrated workflows and improved user experiences that span print and digital. We're delighted that Ingram will be our partner, providing the very best in print fulfillment, and ensuring libraries gain end-to-end efficiencies."
"Since Ingram acquired Coutts in 2006, we've invested in the people, technology and services to support and promote the advancement of academic and professional libraries. ProQuest is the perfect home for the ideas, tools and talent of Coutts to continue growing and innovating to better serve this market," said John Ingram, Chairman and CEO, Ingram Content Group. "ProQuest is very strong in digital services, and we're excited to team up with them to create the best, full-service package for the academic library market."
Read more about what's behind ProQuest's addition of Coutts here: http://bit.ly/PQandCoutts.
Founded in 1969, Coutts Information Services has been embraced by academic and professional librarians worldwide for itssuperior inventory of titles, leading fill rates, and expertly-managed programs and services, including the market's longest-running approval program. Libraries will benefit from the addition of Coutts to the ProQuest portfolio:
It assembles the widest selection of ebooks to support research
Innovation that makes ProQuest the leader in ebooks will extend to MyiLibrary and OASIS customers.
Coutts' collection-building expertise, approval support and tools for streamlined ordering will be available to ProQuest customers.
ProQuest's larger plans include development of a fully integrated book service with simple, efficient workflows for print and electronic. Librarians will gain flexibility to build dynamic collections that meet the unique needs of their community of researchers with support from approval plans, DDA, subscriptions, as well as electronic ordering and invoicing.
The acquisition will not impact ProQuest's support of strategic partnerships or ebook initiatives already in place. The company is committed to keeping the Coutts and ProQuest networks as open as possible, supporting the many platforms and partners that give librarians choices in how they acquire and manage content. The debut of ProQuest's powerful new Ebook Central continues on schedule for mid-2015.
Coutts staff members in La Vergne (TN), Ringwood (UK), Nijhoff, (Netherlands) along with sales and collections associates located remotely will be invited to join the ProQuest team, led by Kevin Sayar, ProQuest senior vice-president and general manager, Books. ProQuest will also take ownership of the Ringwood and Nijhoff facilities.