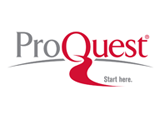 Reinforcing the value of libraries as the hub for university research, ProQuest is transforming end-to-end researcher workflows by integrating Flow™, a research management and collaboration solution, with the Summon® discovery service. Serving as the digital front door to the library, the Summon service provides discovery of academic materials across collections. With the seamless integration of Flow and Summon, persistent access across both platforms enables users to save reference citations, share content and collaborate with colleagues. Combining these two powerful solutions creates an intuitive, modern, compelling user experience while increasing engagement, knowledge-sharing and collaboration among researchers.
Discovery and management of scholarly research is simplified as shown in this video.
"The breadth of ProQuest solutions serving students, educators, researchers and libraries uniquely enables us to leverage our technologies to deliver greater value to our customers and the education community," said Michael Hirsch, vice president of product management, ProQuest. "This distinctive and highly impactful solution created from the integration of two previously independent products further represents our commitment to developing transformational solutions for the library and research communities."
Search results in Summon can be saved to Flow and new users can easily create a Flow account during a Summon session. Through account integration, persistent access across both platforms streamlines the workflow making saved research from past sessions accessible and always up to date.
"This new solution fosters a stronger relationship between users and the library," said Andrew Nagy, lead product manager, workflow solutions, ProQuest. "Seamlessly connecting discovery and management of research materials is what users expect and we are responding to the changing needs of the user community."
An overview of Flow was published in the February issue of Smart Libraries Newsletter. As predicted by the author, Flow moved beyond basic citation management and this Summon integration delivers a new layer of end-user interaction fostering a deeper level of engagement among researchers. The product review may be read here.