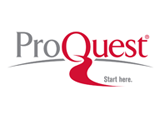 ProQuestunique primary sources that enable scholars to improve their research outcomes with expanded historical archives of newspaper content and an inventive new statistical archive. Historical Statistical Abstracts of the U.S. digitises more than 130 years of Statistical Abstracts of the U.S., extracts the tabular content, and converts it into an Excel format, making these annual collections of data on the United States and its people easy to search and access.
"Working with data is increasingly important to researchers and ProQuest is uniquely suited to create solutions that meet that demand," said Susan Bokern, ProQuest Vice-President, Information Solutions. "With Historical Statistical Abstracts of the U.S. we're leveraging the company's talents in adding value to statistical content by turning it into useable data and enabling researchers to more easily analyse key trends over time."
Published since 1878, The Statistical Abstract of the U.S. has long been one of researchers' most valued reference tools — the premier guide to an extraordinary array of key social and economic statistics that shape the U.S. The "Stat Ab" is renowned for its ability to gather what could be a confusing mass of content and present it in a way that makes it simple for users to connect with just the right nugget of information. The archive will streamline access to this data further, combining all editions in a single digital database. It will be released in three annual installments from 2014 to 2016. The initial release includes all content from 1970 to 2012. The 2015 release will cover 1929 to 1969, and the 2016 release will cover 1878 to 1928.
ProQuest is also expanding its renowned Historical Newspapers program with the addition of 39 years to the historical Atlanta Constitution collection. As the only major daily in this capital of the American south it provides an essential chronicle of the political, economic, cultural, and social life of this important region – one that is unfiltered by time. Newly digitised and accessible via precision search technology are the tumultuous years from 1946 through 1985, bringing total access to the full text of all editions of the Atlanta Constitution published between1868 and1985.
The new content includes reporting from journalists living in the midst of the crucible of the civil rights movement – eye-witnesses to lunch counter sit-ins, desegregation, the bombing of the Reform Jewish Temple, the rise of Martin Luther King, Jr. and Malcolm X, and the election of the first African American mayor in 1973. Users can access editions of the Atlanta Constitution cover to cover, exploring beyond articles to material that provides context and texture of the period, including advertisements, obituaries, editorials, cartoons, and photographs. Further, it's cross-searchable with the complete ProQuest Historical Newspaper's collection of regional, national and international papers as well as other content on the ProQuest platform – periodicals, reports of all kinds, historical and current.
ProQuest is a global leader in digitising historical and aggregating peer-reviewed scholarly content across disciplines, with an unrivaled repository of knowledge that dates from the 1600s. Through its information solutions and technological infrastructure, ProQuest provides researchers with the simple, intuitive search and access of massive deep-web databases of statistics, scholarly journals, ebooks, news content, reports and working papers, streamlining steps and improving outcomes.