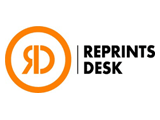 Reprints Desk, Inc., a wholly-owned subsidiary of Research Solutions, Inc. (RSSS), today announced January 2014 as the release date for the next major version of the award-winning Article Galaxy document delivery management system.  Research-driven corporations, academic institutions, and government organizations use document delivery as a legal method for retrieving single copies of full-text papers from scholarly peer-reviewed journals when subscriptions do not exist.
"The next Article Galaxy release should drive even closer engagement with our client administrators and includes infrastructure that will serve as our foundation to deliver Reprints Desk customers with many new innovations over the coming year," said Peter Derycz, President and Chief Executive Officer at Reprints Desk. "It will also deliver enhancements tailored to meet the needs of new customers – from law libraries and information centers that mediate document delivery to biotech start-ups and other small businesses where end users may not have a corporate library to simplify fast and easy literature retrieval."
First launched in February 2012, the next version of Article Galaxy is designed to deliver many customer benefits:
Enhanced researcher efficiency through system infrastructure enhancements and leveraging of digital object identifiers (DOIs) throughout the document delivery workflow
Better support for the specific needs of customers in the legal and small-to-midsized markets through new service configuration options such as concierge support, batch delivery, after hours production scheduling, and transaction-level credit card payment capabilities.
Greater administrator insights through a re-designed administrator interface that shows active and available account features, provides easy access to view release notes and submit product feedback, and facilitates quick navigation to any needed documentation.
Expanded delivery and data capture configuration options in support of regulatory (Sunshine Act) compliance related to the distribution of medical reprints for Pharmaceutical and other Life Science customers.
Article Galaxy was named KMWorld Magazine's list of trend-setting knowledge management products in 2012. Reprints Desk has held lone honors as the top-rated document delivery supplier in every document delivery market research survey conducted by information analyst and advisory firm Outsell, Inc., since 2008. Reprints Desk was founded by Peter Derycz, a pioneer in the document delivery business since 1987 when he originally founded Infotrieve, Inc.
For more information about Reprints Desk, visit www.reprintsdesk.com.