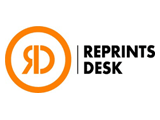 Reprints Desk, Inc., creators of the Article Galaxy software service for document delivery, medical reprints and literature management, announced today that California-based Research Solutions, Inc. agreed to transition its entire base of customers to Reprints Desk. Research Solutions co-founders Chris Atwood and Shane Hunt will join Reprints Desk in strategic customer-facing roles, where they will remain actively engaged with customers. Terms of the transaction were not disclosed.
"Fellow co-founder Chris Atwood and I hand-picked Reprints Desk as the document delivery supplier most capable of serving our hundreds of loyal Research Solutions customers," said Shane Hunt, Reprints Desk Customer Engagement Manager and former co-founder of Research Solutions. "By joining up with Reprints Desk, the industry's top-rated document delivery supplier, we'll continue to fulfill our promise of delivering customers with the highest quality service along with many new advantages."
"Research Solutions was a company that took as much pride in keeping customers happy as Reprints Desk," said Reprints Desk President and CEO Peter Derycz. "Their management team's decision to join forces with us at Reprints Desk is a decision they put a lot of thought into and the fact that they think Reprints Desk is the best home for them and their customers is a testament to our common focus on great customer experiences and copyright compliance."
Document delivery services are commonly used by corporations, academic institutions, and government organizations, in order to retrieve full-text papers from scholarly peer-reviewed journals that they may not yet subscribe to. Document delivery is considered to be a top deliverable and "an integral part of content delivery that is crucial to satisfying a client need" for librarians and information professionals, according to a 2008 information industry briefing entitled 'Document Delivery – Best Practices and Vendor Scorecard,' by information industry analyst and advisory firm Outsell, Inc.
Reprints Desk's Article Galaxy system improves scientific, technical, and medical (STM) literature spending and processes, from monitoring and acquisition to management, re-use, and medical writing. Reprints Desk earned the top ranking in the most recent 'Document Delivery – Best Practices and Vendor Scorecard' report from independent analyst and advisory firm Outsell, Inc., and won the prestigious 'Best Online Science or Technology Service' 2012 CODiE award from the Software & Information Industry Association (SIIA) for its all-in-one literature management system Bibliogo. Reprints Desk was founded by Peter Derycz, a pioneer in the document delivery business since 1987 when he originally founded Infotrieve, Inc.5