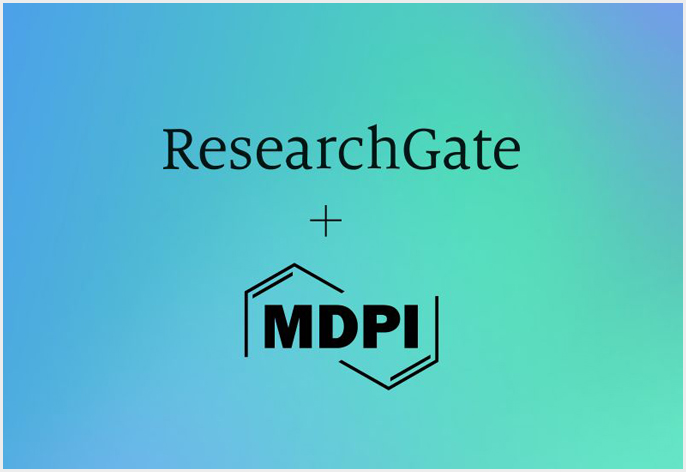 ResearchGate, the professional network for researchers, and MDPI, the largest open access publisher in the world and a pioneer in open access publishing, today announced a partnership that will see 10 of MDPI's open access journals benefit from an enhanced presence on ResearchGate through its innovative Journal Home offering.
This new partnership will expand the reach and visibility of MDPI's participating flagship journals with ResearchGate's highly relevant community of more than 25 million researchers globally.
All 200,000+ version-of-record articles from these 10 titles will be readily available on ResearchGate, including the full archive material and all new articles as they are published. These journals also benefit from enhanced brand visibility with dedicated journal profiles, prominent representation on all associated article pages and all relevant touchpoints across the ResearchGate network – keeping the journals top of mind with their reader and author audiences. All articles covered by the new partnership will automatically be added to the authors' publication records in ResearchGate. This not only reduces MDPI authors' needs for direct management but also offers them valuable insights into the impact of their work, including data about readership and citations.
"The partnership with ResearchGate reinforces MDPI's commitment to delivering a high-quality service for our authors and increase discoverability and transparency of open research content," said MDPI's CEO Stefan Tochev. "Both MDPI and ResearchGate serve scholars from around the world, ensuring the latest research is widely read and shared. Journal Home provides a new way to engage with authors and readers and amplify our journals' visibility."
"We're thrilled to see MDPI join the growing community of publishers benefiting from our Journal Home initiative," said Sören Hofmayer, Chief Strategy Officer at ResearchGate. "Our partners are seeing the benefits of heightened visibility for their journals on our platform, expanding their reach to new audiences, while simultaneously improving the reading experience for our active researcher community. This is just the beginning of what we hope will be a growing partnership; I look forward to seeing the results for this initial group of journals."
‍For more information about ResearchGate, please visit www.researchgate.net.