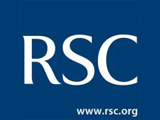 The Royal Society of Chemistry (RSC) is today celebrating being awarded the UK's highest accolade for business success – the 2013 Queen's Award for Enterprise.
This prestigious award recognises outstanding business achievement by UK organisations. The RSC has been honoured in the International Trade category for its sustained and impressive international growth.
The recommendations committee, chaired by HRH the Duke of Edinburgh, commended particularly the RSC's overseas earnings growth of 45 per cent over six years.
Also commended were the RSC's exports to 86 countries worldwide, with recent high increases in sales to the US, India and China, and its world class portfolio of high-profile scientific conferences.
The RSC's success will be recognisable by the Queen's Award emblem, which can be used on its products and materials for five years.
RSC Chief Executive, Dr Robert Parker said: "We're honoured to have the hard work of our employees and members recognised with the Queen's Award. For the next five years, we can display with pride yet more evidence of our international success."