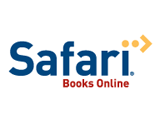 Safari To Go Apps Make it Easy for Subscribers to Access Their Learning Library on the Go!
Safari® Books Online (www.safaribooksonline.com), the on-demand digital learning library for technology, digital media and business professionals, today announced their next generation Safari To Go apps which are free apps designed specifically for Apple and Android phone and tablet users.
The new apps are more than  "mobile-ready" versions of Safari Books Online – they allow users to consume and manage content, navigating in a familiar and comfortable environment, from their mobile device of choice.  The Safari To Go apps make learning on the go convenient and easy by giving users the ability to pick up where they left off from any Safari Books Online reading platform. This means that a user can access Safari Books Online, begin a reading session from a PC and easily pick up where they left off from their iPhone, iPad, Android phone or Android tablet device.
The Safari To Go apps can be downloaded from the Apple App store and from Google Play for Android device owners.
Safari To Go iOS and Android apps provide the following:
Offline Bookbag capacity increased to allow the download of 3 books for reading without an Internet connection
Synched Recent Views, Bookmarks & Folders across all devices used to access Safari Books Online
3G & 4G optimized for faster load times and smaller data overhead
Adaptive Bitrate Streaming for optimal video playback based on available bandwidth
Updated User Interface making navigation of folders, content and searches a breeze
New "Browse" encourages discovery of books & videos across a broad range of categories and interests
Grouped Bookmarks by title create better organization of key materials
Smart Lists allow for saving of a search and following new titles that match the search results (which automatically update as new titles are added to the library)
"We're really excited to unveil the long awaited iPhone, Android phone and Android Tablet Apps in addition to a re-designed iPad app," said Bill Levien, Mobile Product Manager, Safari Books Online. "We wanted users to be able to quickly find the content they care about when they only have a precious few moments to get in some reading. We also wanted to create a comfortable reading experience for those marathon reading sessions and ensure synchronization between devices to allow users to quickly pick up where they left off, regardless of which of their devices is being used to access Safari Books Online."