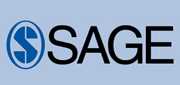 The partnership between SAGE and Hindawi Publishing Corporation in publishing open access journals has now concluded. SAGE are pleased to announce that they will be bringing three of the SAGE-Hindawi journals in house and the further 33 journals will now be solely owned by Hindawi. The three journals migrating to SAGE will be Human Genomics and Proteomics, Journal of Tissue Engineering and the Journal of Dental Biomechanics. All of the titles from the SAGE-Hindawi partnership will remain fully open access.
The SAGE-Hindawi partnership was established 2007 to create a suite of fully open access journals. The collection of journals has to date grown to 36 titles. As both the collection and the number of submissions has grown, alongside SAGE and Hindawi's own separate business growth, both agreed that it was not possible to expand this collection any further and therefore it was mutually agreeable to formally end the partnership.
"SAGE has been delighted to work with Hindawi over the past four years" said David Ross, Publisher, SAGE. "The business model created was a great success for both and SAGE's first steps into open access publishing have been resoundingly positive ones. SAGE believes greatly in the value of open access publishing and the dissemination of academic research and the recent launch of SAGE Open means we can now look to the future and the continuation of SAGE open access publishing for many years to come. It has been a pleasure to work with Hindawi and we look forward to seeing the continued development of the journals in their care."
"We greatly appreciate having had the opportunity to work with SAGE over the past few years in developing this collection of open access journals" said Paul Peters, Head of Business Development for Hindawi. "Although we are sad to see the SAGE-Hindawi partnership conclude, we are excited about the opportunity to continue publishing the 33 titles that were developed within the partnership and are now moving into our collection. We wish SAGE all the best with the three titles that they have taken over, as well as with the development of SAGE Open."
For more information on the three new SAGE journals please visit:
Human Genomics and Proteomics http://hgp.sagepub.com
Journal of Tissue Engineering http://tej.sagepub.com
Journal of Dental Biomechanics http://dbm.sagepub.com
For more information on the 33 new Hindawi journals please follow the links to each journal's website from the following page http://www.hindawi.com/journals/.