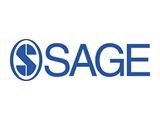 SAGE today announced the recipient of their 2013 library travel grant for the ALPSP International Conference.  Penny Andrews, Library Graduate Trainee at Leeds Metropolitan University won by answering "what would be your top tip to give students about conducting research" with:
"Don't assume you're on your own or that books are all the help you get. We're here to give you skills."
Penny was chosen by the SAGE judging panel for her consideration of the influential role of the librarian in supporting students and capturing the value of the librarian for academic institutions.
"As we've seen in our own research exploring library value, too often users fail to appreciate how much librarians can offer to support teaching and research, which is exactly what Penny's entry points to," said Clive Parry, Global Marketing Director, SAGE. "In an environment where both the education and research landscapes are rapidly evolving, supporting the dissemination of knowledge is key. The ALPSP International Conference provides an ideal environment for open discussion between both librarians and publishers to learn how to work together on this shared goal."
Audrey McCulloch, Chief Executive, ALPSP, further commented, "The exchange of ideas and information between stakeholders is key to meeting the challenges facing our industry.  We're delighted to have the support of SAGE in promoting the conversation between libraries and publishers and look forward to welcoming Penny Andrews to the ALPSP International Conference in September." 
The travel grant supports a librarian or information professional with a free place at the ALPSP International Conference from 11-13 September (www.alpspconference.org).