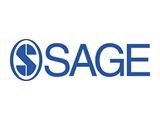 SAGE today announced the launch of its highly innovative digital revision tool, MobileStudy to aid student learning on the go. As one of the first revision tools to use a QR reader, SAGE's MobileStudy is a significant step in supporting the student interactive learning experience on the go through mobile technology.
Using QR codes within the printed book, SAGE's MobileStudy, enables Smartphone and tablet users instant access to key textbook extracts and additional study resources tailored for mobile use, making it possible to study and revise whenever and wherever they like. Linking through to lecturer resources, additional summary material, revision questions and summaries, the digitally innovative mobile revision tool creates an engaging textbook learning environment, supporting the changing need of today's students whilst simultaneously helping to improve learning outcomes.
SAGE's MobileStudy was first rolled out as part of the well renowned and highly regarded fourth edition Discovering Statistics Using IBM SPSS Statistics textbook by Professor Andy Field.
"Student reading habits are changing, with a much higher demand for interactive material that engages the student while on the move," said Ziyad Marar, Global Publishing Director, SAGE. "The work we have done on MobileStudy is a direct response to a large amount of feedback we've had from students around the world, and, we believe, meets their needs in an innovative and highly effective way.'
The mobile learning tool will be rolled out across a number of SAGE higher education and college market textbook titles by end Q1 2014.