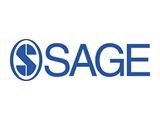 SAGE, one of the world's leading independent and academic publishers, today announced an exciting new partnership with a major online news website, The Conversation, to support access to high quality academic research within the mainstream media.
Originally launched in Australia in 2011 and now their largest independent news site, The Conversation UK, which launched 6 months ago, brings a unique combination of academic rigour and journalistic flair to the world of academic research. Articles published on the site are authored by academics with the help of experienced journalists to ensure research is accurately reflected within the media.
SAGE has championed the importance of social science since its founding in 1965 through the publication of high quality research and pedagogy, through stimulating debate events and partnerships, and through the creation of online communities (www.socialsciencespace.com, www.methodspace.com and Pacific Standard).  This partnership takes this commitment further. As a partner, SAGE will be supporting the important role that The Conversation plays in helping academics to engage directly with the public and increasing the reach, the impact and the public understanding of high quality and influential academic research.
Speaking of the partnership, SAGE's Global Publishing Director, Ziyad Marar commented:
"Academia and its relationship with the media has been one of those long contested problems. Getting accurate reporting of academic rigour into the public sphere remains one of the key concerns of the academic community, as they work to get their voices heard and engage in debate around key issues.  Since our founding, SAGE has been committed to both enabling informed debate around public policy and to disseminating the work of our authors and editors to best effect. The difficulty of doing so has long been diagnosed, but the Conversation may well have come up with a cure! As such we are delighted to announce this partnership and look forward to seeing their excellent work go from strength to strength."
Max Landry, Chief Operating Officer, The Conversation, further commented:
"To have the support of SAGE as we move forward is tremendously exciting for everyone at The Conversation. We're big admirers of the work SAGE does, and see them as a natural partner. I look forward to our teams working closely together."