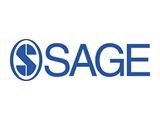 SAGE is proud to announce that it was recently honored by the editors of Writer's Web Watch with three Annual Awards for Publication Excellence (APEX): Canadian Pharmacists Journal in the category of Magazine & Journal Design & Layout, the United European Gastroenterology (UEG) Journal in the category of New Magazines & Journals, and SAGE's  podcast series of interviews with leading social scientists, Social Science Bites, in the category of Special Purpose Electronic Media.
APEX awards are given based on excellence in graphic design, editorial content, and overall success by professional communicators. This year, the APEX awards celebrate 25 years of honoring publication excellence.
"SAGE is delighted to be recognized for publication excellence in both the social sciences and in medicine," stated Bob Howard, Vice President of SAGE Journals. "The success of UEG Journal and Canadian Pharmacists Journal, both new to SAGE this year, represent our growing program of medical journals as well as flourishing partnerships with United European Gastroenterology and The Canadian Pharmacists Association. Here at SAGE, we are dedicated to ensuring that all of the journals we publish meet the needs of the different scholarly communities that they represent.
Celebrating its 145th anniversary in 2013, The Canadian Pharmacists Journal is the oldest continuously-published journal in Canada. At the request of the journal's Executive Editor, SAGE immediately began to redesign the journal based on the needs of the journal readers and the members of the Canadian Pharmacists Association when SAGE began to publish the journal in January of 2013. In February 2013, United European Gastroenterology partnered with SAGE to launch UEG Journal as UEG's official platform for scientific publication, providing coverage of both translational as well as clinical studies from all fields of gastroenterology.
Social Science Bites is a series of interviews with leading social scientists on different aspects of the social world. Today, the series includes freely available interviews with 18 innovative social scientist leaders including Danny Dorling, Stephen Pinker, Daniel Kahneman, and Doreen Massey.
"In 2012, SAGE launched Social Science Bites as a resource to help communicate how the social sciences shape our understanding of all aspects of society – a belief that has driven the company since its inception," stated Clive Parry, Vice President of SAGE Global Marketing. "We are delighted that our investment in advocacy and communication support of the social sciences has been recognized by APEX."