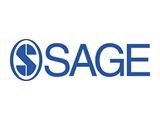 SAGE releases SAGE Knowledge platform for eBook delivery — Unlimited simultaneous usage of SAGE eBooks
Los Angeles, CA (June 21, 2012) – SAGE, the world's leading independent academic and professional publisher, announced today the full launch of SAGE Knowledge: the ultimate social sciences online library.
Launching with more than 2,500 titles, SAGE Knowledge includes an expansive range of SAGE eBook and eReference content, including encyclopedias, handbooks, advanced textbooks, scholarly monographs, and professional development titles. The platform allows researchers to cross-search and seamlessly access a wide breadth of must-have SAGE book and reference content from one source. SAGE Knowledge also includes selected works from Corwin and CQ Press.
Available in Beta since March, more than 1000 institutions have already trialed SAGE Knowledge, including current SAGE Reference customers who will be migrated onto the new platform.
"We are receiving enthusiastic feedback from beta-testing," said Karen Phillips, Editorial Director, SAGE. "Readers have commented on the excellent range of titles in SAGE Knowledge, user-friendly interface and easy navigation, and are particularly excited by the 'related content' feature, which will seamlessly link users to similar content within SAGE Knowledge and across other SAGE platforms. This functionality is powered through our partnership with Temis, making search and discovery more advanced for SAGE Knowledge."
For readers, SAGE Knowledge offers titles in full text HTML as well as pdf download. In addition to quick and advanced search options, titles can be browsed through book portal pages and table of contents. Content is discoverable by major search engines at the title and chapter level to ensure students find SAGE content no matter where they start their search. Personalization features are provided to create reading lists and save searches. Functionality to enable easy social sharing of materials and citation options are also provided.
Libraries are being offered a range of flexible purchasing options, including mix and match of reference titles as well as collection and subject bundles. MARC Records and COUNTER reports will available. All DOIs are registered for each title and chapter and deposited in CrossRef.
"Librarians involved in beta testing have commented on the provision of unlimited simultaneous usage of eBooks on the SAGE Knowledge platform," said Karen Phillips. "We're conscious that librarians want to get demonstrable value from new digital resources. Flexible pricing was a key discussion in our initial planning, and we're pleased to be able to offer a variety of options including subscription as well as purchase."
Launch demonstrations and trials will be available at the ALA conference in Anaheim this weekend. For further information visit the SAGE booth at 1476 or seehttp://www.sagepub.com/knowledge.sp