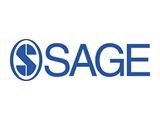 SAGE today announced the internal appointments of Martha Sedgwick as Executive Director of Product Innovation within the UK, and Todd Baldwin as Executive Director, Online Library and Reference Publishing within the US.
The promotions reflect SAGE's continued commitment to developing innovative solutions that support education and scholarship. Sedgwick and Baldwin will now join SAGE's global senior management team, providing a consolidated approach to SAGE's online product development for the library and college market.
Sedgwick has extensive experience in developing online digital products and content delivery platforms for the library market. Having joined SAGE just over five years ago, Sedgwick has had a significant impact on both the development and launch of several highly acclaimed products including SAGE Research Methods, the award-winning research methods tool; SAGE Knowledge, the social science online e-book platform and SAGE Navigator a literary research tool.
Since joining SAGE in 2010, Baldwin has made a significant impact on SAGE's online product strategy. Baldwin has been instrumental in the development of SAGE's data products, including the award-wining State Stats in 2012, and the development of CQ Researcher. In 2013, he assumed management responsibility for the SAGE U.S. reference program, integrating the traditional reference publishing program with SAGE's online library product development into a fully aligned publishing team.
"The way academics consume knowledge is shifting dramatically and our role as publishers is to deliver what our academic researchers, students and librarians need. With opportunities for electronic delivery quickly maturing, it is important that we continue to invest in our capabilities in this area and these promotions ensure that we do that," said Karen Phillips, Editorial Director, SAGE London.
Michele Sordi, Vice President, Editorial , SAGE US, added, "In their time at SAGE, Martha and Todd have both demonstrated a highly intuitive and profound understanding of the online product market – its evolving importance for our publishing partners and the challenges involved in bringing new products to market successfully. Their new roles give them greater scope to focus on this and we are incredibly excited to see the development of SAGE's online products under their global leadership."