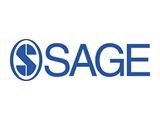 SAGE is delighted to announce that it has been selected to publish one of the world's premier theology journals, Theological Studies, from March 2014.  
Founded and sponsored by the Society of Jesus in the United States of America, Theological Studies is a Catholic scholarly journal that serves the Church and its mission by promoting a deeper understanding of the Christian faith through the publication of research in theological disciplines. Through referred articles and reviews of noteworthy books, the journal aims to recover and to help make accessible the riches of the theological tradition and to present significant developments in current theology.  It is published quarterly in English for an international readership, and has been in continuous publication since 1940.
"We have developed a leading portfolio in Theological and Biblical Studies through the close relationships that we have built over time," remarked Karen Phillips, Editorial Director, SAGE. "To have been chosen to publish one of the world's foremost theological journals is a testament to the strengths and insight that SAGE has developed in this important field of scholarship. For many decades, Theological Studies has published significant, current and thought provoking research to promote scholarship, fellowship and cooperation in the theological community and beyond. In a changing and increasingly competitive journals environment, we will help this highly prestigious title to build its readership, exposure and impact even further on an international stage by offering the very best in technological and strategic support."
"Both the editorial team at Theological Studies and The Society of Jesus in the United States are delighted to be working with SAGE, not only to build on the success of our journal, but to also build a partnership that will enable us to benefit from SAGE's international reach and growing strength publishing first-rate research within our field," commented David Schultenover, Editor. "We strongly believe that SAGE shares our commitment and passion for publishing high quality and significant research that will help develop the field of theological studies. We are excited about the strengths that this new partnership will bring, and look forward to developing a successful future with SAGE."
The first SAGE issue of Theological Studies will publish in March 2014, and will appear quarterly thereafter. The journal will be published on the SAGE Journals platform at http://tsj.sagepub.com/.