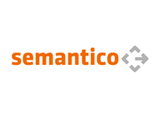 Semantico is proud to announce the launch of Scolaris, the new digital publishing platform for scholarly and academic publishing. The product launch took place today at The Royal Institution of Great Britain, and was attended by a select group of industry professionals.
Scolaris is the next generation integrated content platform, engineered to manage the complexities of journals, reference works and dictionaries. It builds on the success of its predecessor SIPP and features specific new functionality for the journals sector.
Richard Padley, Managing Director, Semantico said: "We are very proud to present Scolaris. Scolaris is a blazingly fast system that has been designed around our industry successful SIPP platform. It features new functionality and enhanced features that we're confident will outperform any competitor systems.
"SIPP is a well respected platform in the reference works arena, but we realised that there was a need for a content management system to work in the journals space as well. This launch therefore, marks our entry as a major player in the journals market."