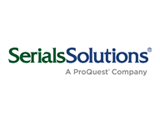 Serials Solutions®, a ProQuest® business, today announced its six Development Partners are actively using and providing feedback on the second iteration of Intota, a web-scale collection management solution for academic and special libraries. Integrated with a newly structured knowledgebase, this code drop represents another milestone toward interoperability with other information systems and unified, intelligent workflows.
Functionality within this second release to Intota Development Partners includes:
End-to-end ability to acquire material in a more efficient manner, with flexible purchase order creation and management, plus new capabilities for acquisitions budget management, fund management and financial reporting.
Simultaneous search and retrieval of electronic and print records from the library's own catalog and the Serials Solutions Knowledgebase, resulting in unified resource management, acquisitions and cataloging functions.
Customizable user management features, including staff user accounts and organizational definitions to support a multi-tenant environment, which results in a more flexible and reliable system.
"We are thrilled to be experiencing first-hand the functionality that re-conceptualizes how we manage our collections," said Judi Guzzy, technical services librarian and associate professor, Johnson County Community College, an Intota Development Partner. "Our feedback is shaping the development of Intota and it's rewarding to be a part of creating this transformational solution."
"We continue to receive feedback that the features and functionality we are building for Intota is solving the workflow challenges facing libraries today," said Jim Miesse, director, product management, Serials Solutions. "This positive validation of our product strategy reinforces our belief that Intota is the game-changing solution that libraries are waiting for in a new web-scale management solution."
This iteration is indicative of how the company, founded by librarians, is developing a new web-scale management solution that uniquely addresses library collection management. Since announcing the Intota Development Partners in April, and releasing the first iteration in June, the development process continues to deliver robust features that solve the work flow challenges facing libraries today.
To learn more about Software-as-a-Service (SaaS) and cloud computing, download a white paper here.