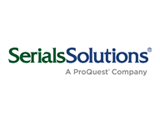 Serials Solutions, a ProQuest business, has acted on requests to expand discovery of French-language content by working with two publishers. l'Harmathéque is the first cultural database available digitally for the French language. Consortium Érudit Is a publishing consortium of three Canadian universities: Université de Montréal, Université Laval, and Université du Québec à Montréal.
l'Harmathéque presents a rich collection of books, journal articles, videos and audio programs that span all academic disciplines. The Summon service will index full text and metadata of l'Harmathéque including:
Approximately 26,000 e-books and journals in all fields of the humanities and social sciences, as well as novels, short stories and children's books
17,000 articles from journals and collective books
A growing collection of more than 400 videos to date, as well as 600 audio programs including audio books, courses and conferences
Consortium Érudit gathers the work of nearly 150 Canadian scholarly and cultural publishers, including French-language Canadian university presses. Many of the journals, and all journals older than two years, are open access. The collection includes:
More than 140 journals spanning multiple subfields within the Humanities, Natural Sciences, Social Sciences and Health Sciences, as well as fields such as Industrial Relations, Law and Theology
A repository of more than 3200 research documents submitted by authors and researchers for preservation and dissemination, such as reports, research notes, lectures, preprints and raw data
The Summon service makes global content available to scholars worldwide, with an interface available in 32 languages and dialects. It applies native-language searching capabilities and language-tuned relevancy for 17 languages, including French.