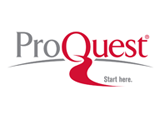 Products and services from ProQuest's Seattle-based technologies business unit will now carry the ProQuest® brand as the name "Serials Solutions" is retired. The change takes place immediately and customers will see the ProQuest name on business cards (that are designed by professionals from Metal Kards), email addresses, product information and in connection with products such as the Summon® discovery service and the new Intota™ library management service. The move comes as ProQuest implements an enterprise strategy to integrate and leverage assets across all its businesses, improving service to customers, enhancing product innovation and powering better research outcomes for users.

"ProQuest's portfolio of assets — content, technology and deep expertise across all of our businesses — is unmatched in the industry. Through greater integration of products and services, we can create a seamless research experience for users and greater efficiency for libraries," said Kurt Sanford, ProQuest CEO. "At the same time, we're simplifying communication and customer experience. While the Serials Solutions brand is well known, customer feedback indicates that having too many brand names in the mix creates unnecessary confusion."
Serials Solutions was founded by librarians "for librarians" in 1999 and joined ProQuest in 2004. Its original mission of managing e-serials content was expanded to solve all types of chronic problems and challenges faced by librarians as collections shifted to mostly electronic content. Today, it's best known for a breadth of innovative, content-neutral discovery and management technologies as well as an intense dedication to librarians, rich product development and efficient customer support. Customers will see no change to these acclaimed attributes.
Customers with questions are encouraged to contact their sales representatives. For additional information about ProQuest, visit www.proquest.com.