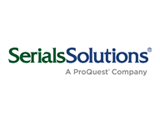 Serials Solutions®, a ProQuest® business, and Wolters Kluwer Health, a leading global provider of information for healthcare professionals, researchers, and students, today announced that Lippincott Williams & Wilkins (LWW) content available on the Ovid institutional research platform will be indexed in theSummon® discovery service. Researchers will be able to search the abstract and full reference (metadata) details of LWW's 280 journals in the fields of medicine, nursing and allied health professionals.

"Working with Serials Solutions supports our mission to broaden the reach of our content to support end-user information needs, and the Summon service is widely recognized for increasing usage of resources," said Jayne Marks, vice president publishing, Wolters Kluwer Health, Medical Research. "Also, researchers recognize the benefits of precision discipline-scoped searching – and students value contextual research assistance."
The LWW journal collection is one of the most authoritative medical, nursing and allied health peer-reviewed resources in the world. Health care practitioners, researchers and students at medical, academic and corporate institutions globally access this content every day to make important decisions. "This announcement marks a milestone in building the most comprehensive collection of highly valued medical content in a discovery service," said John Law, vice president discovery services, Serials Solutions.
The Summon Service
Used by more than 500 libraries in more than 40 countries, the Summon service is the first and only discovery service based on a unified index of content, leveraging its unique "match and merge" technology to combine rich metadata and full text from multiple sources to ultimately make items more discoverable. In just three years, the Summon unified index has grown from 200 million items to more than one billion items – with the vast majority of article and book content full-text searchable. Proven to increase usage of library resources, the Summon service consistently meets user expectations by delivering innovative new features for enhancing discovery.