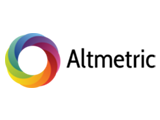 Silverchair Information Systems today announced that Altmetric will provide alternative metrics data to two new STM publishers via its SCM6 online publishing platform. This will provide researchers and authors with up-to-date evidence of the real-world application of research across a wide breadth of online communications.
JAMA, the Journal of the American Medical Association, and the titles published by the American Speech-Language-Hearing Association (including the American Journal of Audiology and the Journal of Speech, Language and Hearing Research) will now join CHEST journal in displaying Altmetric data on their research article pages.
Altmetric tracks mentions of an article in post-publication peer-review forums, mainstream and social media, online reference managers, and in policy documents.
Speaking about the JAMA integration, Howard Bauchner, MD, Editor-in-Chief of JAMA and The JAMA Network, observed: "Journals are communication networks, and we believe that enabling our readers and authors to explore Altmetric data – beyond citations and download counts – will enhance our and their understanding of how medical information is discovered and consumed outside of traditional channels. Understanding how each article is "seen" in a complex digital world is important to all of our audiences."
Silverchair's partnership with Altmetric enables all publishers on the SCM6 platform an easy and fast integration with the Altmetric data, and provides better insight into the reception of an article for their authors, website users, and internal publishing teams.
"The way people share and interact with online content continues to evolve and expose new impact tracking opportunities," said Joy Moore, Silverchair Chief Product Officer. "Altmetric has created an excellent product that responds to this evolution by providing researchers and authors with a more robust understanding of article impact. We are pleased to be able to work closely with third party solutions like Altmetric to provide our clients with the most relevant and useful technologies available."
Altmetric focuses on providing fully auditable and high quality data, achieved by selecting trusted providers and manually curating a source list of over 1,000 news outlets and 8,000 blogs across all disciplines.
"We are proud to see Altmetric integrated into product suites for clients such as JAMA and ASHA", said Euan Adie, Founder of Altmetric. He adds: "Working with Silverchair directly ensured the timeliness of the integration process and opens up the opportunity for other clients on the SCM6 platform to begin using our progressive technology in their publishing solutions."