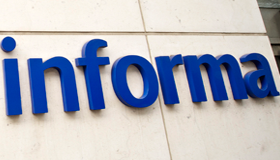 Informa Plc, the international publishing, business information and events company, today announces that Peter Rigby will retire as Group Chief Executive at the end of 2013. Stephen A. Carter, currently a non-executive board director, will succeed him on 1st January 2014.
Peter Rigby (58) first joined Informa in 1983 and has served as Chief Executive or Executive Chairman since 1988. Under his leadership, Informa has grown from a company valued at a few million pounds to a business with a market capitalisation exceeding £3bn.
Stephen A. Carter (49), who has been an Informa board director since 2010, was formerly President/Managing Director EMEA and President/Managing Director Global Managed Services at Alcatel-Lucent, the telecommunications and technology group. Before joining Alcatel-Lucent, he worked in a number of senior roles in the media and communications sector, including serving a term as the Founding Chief Executive of Ofcom, the UK Communications Industry Regulator.
The orderly leadership transition follows a sustained period of growth at Informa, which now employs more than 7,000 people across its Academic Publishing, Events and Business Information operations.
During his period of office, Peter Rigby designed and implemented a strategy to overhaul the original IBC print publishing business, anticipating the structural shifts underway in the sector. Through a combination of organic investment and several major transactions, he successfully led Informa through the most disruptive era for media companies – transforming it into a first-class digital data, information and events group. It now commands leading global positions across attractive growth markets in academic publishing, business information and exhibitions. In 2012, almost 75% of Informa's publishing revenue was digital.
The Board of Informa conducted a thorough search process, working with the JCA Group.
Derek Mapp, Chairman, said:
"Informa owes a huge debt of gratitude to Peter, who has devoted a large portion of his career to the group, guiding it from humble beginnings into the leading global media group it is today. His boundless energy, enthusiasm and passionate management style has touched many people during his tenure and reflected in the unique culture prevalent across the group. I am sure that all of Informa's stakeholders, including employees, shareholders and customers, will join me in thanking him for his enormous contribution to the company.
I am delighted that Peter's business legacy will be continued by an executive of Stephen Carter's calibre. The Board was unanimous that Stephen's UK and international experience, knowledge and strategic understanding of the digital and technology industries, combined with his empathy for Informa's unique culture and commercial success, made him a natural choice as Peter's successor."
Peter Rigby, Chief Executive, said:
"Like all good things, my time at Informa must come to an end. I decided many years ago that I would not overstay my welcome and leaving at the top, under my own terms and with Informa in great shape fulfils that promise to myself. 
Informa has been a major part of my life for the past 30 years, during which time the company has grown and evolved more than I could ever have imagined at the outset. I have enjoyed every minute of it and feel privileged to have been given the opportunity to manage the business over such a long and significant period.
For this, I owe many people a debt of gratitude, but in particular I would like to thank all my colleagues at Informa, both past and present. This is a business that is wholly dependent on the creativity, expertise and tenacity of its staff. This is what has made Informa the business it is today and it is what gives me confidence it will continue to flourish under Stephen's leadership for many years to come."
Stephen A. Carter said:
"Informa is a robust and resilient international business, with significant opportunities for growth and further digital innovation.
Peter and the team have built a powerful business. Our responsibility will be to continue the Informa tradition of delivering consistent returns to shareholders."