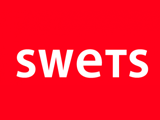 Swets is pleased to announce the appointment of Ted van Dongen as its new Chief Technology Officer. In this role, Ted will be responsible for both IT and product development within the company.
Ted brings a strong IT background in the publishing sector and extensive product development experience; with a strong understanding of the service offerings and go-to-market requirements of media companies. His career spans over 20 years of experience in companies such as Telegraaf Media Netherlands, PCM and Veronica Publishing. Most recently he worked as program director for product development at Ziggo, the Netherlands' largest cable operator providing cable television (digital and analogue), Internet and telephone services. Here he was responsible for product development for their business to business Voice services. In the same period, he took up an interim CTO job at online platform Workspot.nl.
"Ted brings the strong leadership required for us to accelerate our movement towards being a truly digital business. He has extensive experience in product development in the media industry and will prove to be a great asset to our team, I'm sure," said David Main, CEO at Swets. "I am sure that Ted can really help us build our digital and data capabilities and services at an increased pace going forward".
Ted comments, "Every company, but in particular companies in the media industry, is facing the same challenges: business models are rapidly and continuously changing, new competitors come from unexpected directions and business risks. I am confident that I can assist Swets in realizing their compelling digital strategy and continuously adapt to changes in the research and technology landscape. I'm delighted to be joining Swets and look forward to accelerating our success."