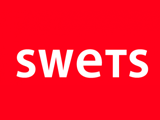 Swets, a global leader in the management of research information, is pleased to announce the appointment of Teri Hawksworth as Global Head of Sales. Teri brings more than 15 years of experience in the information industry, joining Swets directly from a Managing Director role at Sweet & Maxwell, Thomson Reuter's legal publishing business.
"We're delighted to have Teri on board with us," says David Main, CEO at Swets. " Swets is developing its role into that of a truly effective business partner for publishers, customers, and research solution providers . Teri's experience aligns directly with that approach and her leadership skills will be vital in helping to propel our development and growth going forward. This, coupled with her proven track record of securing consistent sales growth in a turbulent marketplace, makes her an ideal fit for our organization."
"I am delighted to be stepping into this position at this point in Swets' development," comments Teri.  "The company's current initiatives tie together many threads of my career and present an ideal opportunity to deliver the growth and strategic change that Swets is targeting and the market needs. I am really looking forward to take on this challenge."
In addition to her previous role, Teri's career path has seen her  hold a range of  top-level sales, marketing and general management positions at companies including Wolters Kluwer UK, LexisNexis UK, Tritec.Ltd and ICC Group PLC.