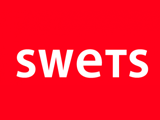 Swets announced earlier today that customers using its SwetsWise Online Content and Selection Support modules are now able to retrieve COUNTER 4 compliant usage reports from both platforms.
The COUNTER Code of practice for e-Resources is a development undertaken by Project COUNTER(Counting Online Usage of Networked Electronic Resources). The Code of Practice sets the standards that facilitate the recording and reporting of online usage statistics in a consistent, credible and compatible way. This fourth release has been developed with input from vendors, librarians and intermediaries, creating a single, integrated Code of Practice covering journals, databases, books and multimedia content. Further information on the work of COUNTER can be found atwww.projectcounter.org
"SwetsWise continues to provide libraries with the data they need in the formats they require," said Ted van Dongen, Chief Technology Officer at Swets. "Using our tools, libraries can effectively compare statistics from different vendors, derive useful metrics to inform their purchase decisions and discover genuine usage patterns among their content. We understand the value that COUNTER compliant usage reports provide in the content evaluation workflow and we're delighted to be among the first vendors to be able to supply the new standard."
SwetsWise Online Content is an end-user focused platform that provides an electronic gateway to over 14,500 full text titles. Libraries can report on the usage of this platform using the following Counter compliant reports: Journal Report 1 (JR1), JR3, JR4 and Consortium Report 1.
SwetsWise Selection Support is a powerful library analysis and evaluation tool, combining usage statistics, subscription details and pricing information into one clear overview. Libraries can also examine Scimago impact factor data and generate price-per-use information through the platform. Selection Support harvests usage data on behalf of the library, collecting reports from publishers and converting that information into an easily digestible format. All usage statistics gathered by the system will now be made available for customers in the following COUNTER 4 compliant reports: JR1, JR1a, JR3, Database Report 1(DB1), DB2, DB3/Platform Report1, Book Report 1(BR1) and BR2.
Any customers retrieving SUSHI protocol compliant statistics via SwetsWise will also receive COUNTER 4 compliant reports from now on.
Further information on SwetsWise is available at www.swets.com/swetswise.