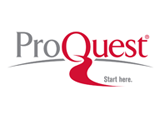 ProQuest Syndetic Solutions™, the popular OPAC and discovery layer enrichment tool, is offering a free Facebook® app for all library subscribers, enabling users who "like" their library to connect to the catalog and search for titles right from their library's Facebook page. For libraries, the app provides another way to engage with users and demonstrate value to the community.
"Providing patrons seamless access to local library catalogs directly through Facebook is a new opportunity for libraries to stay connected to their patron base," said Sharon Lubrano, ProQuest Vice-President. "We're excited about enabling libraries to add another gateway to the catalog, build engagement around titles and continually remind patrons to come to the library first."
With the new Syndetic Solutions Facebook app, library users search holdings by simply clicking on the 'Search the Catalog' call-out button on the library's Facebook page. The topic or keyword searched will return title, author, and ISBN, as well as all of the enriched elements to which the library subscribes — Summaries, Tables of Contents, First Chapters, Author Notes, Cover Images, and more — for all relevant titles in the collection. When the user finds a title they want, the app offers the option of linking to the library's OPAC and placing a hold. Users can also "like" a title (which is then displayed on the user's own Facebook page), allowing users to share their new favorite reads with friends and build interest in a broad selection of catalog titles.
Libraries who subscribe to Syndetic Solutions can find all the instructions on how to set up the Facebook App here.