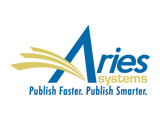 Aries Systems Corporation and Taylor & Francis are pleased to announce that they have entered into a global enterprise agreement to make the Editorial Manager peer review system available to Taylor & Francis journals.
Taylor & Francis has grown rapidly over the last two decades to become a leading international academic publisher of more than 1,750 scholarly journals. By adding Editorial Manager to its workflow options, its journals will benefit from the innovations and configuration capabilities that characterize the Aries solution.
Genevieve Early – Global Production Director, Journals at Taylor & Francis commented, "Workflow flexibility and systematic innovation are essential to keep pace with new business models and emerging standards in scholarly publishing. We are pleased to extend our relationship with Aries because of their ongoing ability to address these priorities. Aries appears to be listening closely to the marketplace and each new release addresses important journal and publisher needs."
Editorial Manager is a cloud-based SaaS (Software-as-a-Service) solution used by thousands of scholarly journals to facilitate manuscript submission and peer review. The system delivers feature updates approximately three times per year and leverages APIs to integrate with third-party solutions such as ORCID and CrossCheck. Recent innovations include seamless cross-journal manuscript transfer, editor discussion forums and automated ingestion of external email.
Richard Wynne, VP Sales and Marketing at Aries commented, "Our job is to help publishers stay competitive in a very dynamic environment. For example, many journals are using the configuration capabilities in Editorial Manager to minimize initial submission steps and only burden authors with additional data collection at the time of manuscript revision. In other systems, this type of market adaptation requires extensive and slow software changes; but in Editorial Manager it can be undertaken in a few minutes and at no cost. We are delighted to extend our relationship with Taylor & Francis – one of the world's largest publishers."